All right. The most recent Dyna comic strip has brought up the question of food. In case you missed it: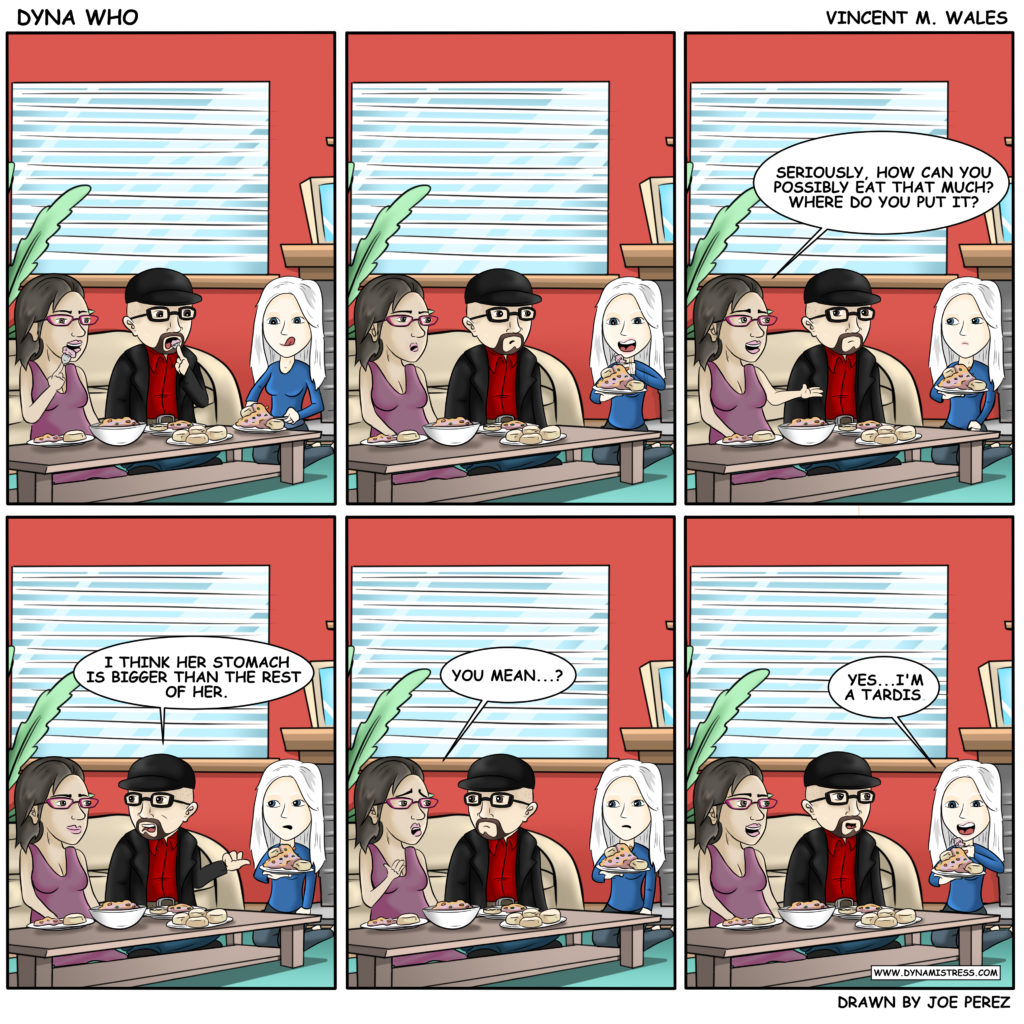 So how much do you really eat?
Fine. I eat a lot. But it's not like I have a choice. All that energy I expel has to come from somewhere, right?
And sure, my genetic tweaks have made my body tremendously more efficient at extracting energy from food, but I still need an awful lot of it. (And my effort to make that process even more efficient… didn't exactly end well.)
But to answer the question… Y'know how much sumo wrestlers eat? About 20,000 calories a day. I can easily do that, but I spread it out over the day, rather than in two big meals. Several years ago, I developed a very calorie-dense supplement… you may have seen it on the market as PowerPaste, sold in little pouches, each of which is 500 calories. When I developed it, I carried it around in pouches of 3000 calories. These can be helpful when I need more energy in a fight.
What foods do you love the most?
I'm going to show my east coast roots, here. A lot of my favorite foods are pretty difficult (if not impossible) to find out west. So here's what I miss the most.
NY style pizza. Where the slices are enormous, the crust is thin and chewy, the mozzarella doesn't come pre-grated… Heaven, kids. Heaven. If you've never had the real thing, you don't have a clue what you're missing.
Real Philly cheesesteaks. There's a lot more to a good 'steak than just meat and cheese. Again, if you've never had a "real" one, you have no idea. Personally, I like mine with mushrooms rather than the common onions and peppers.
Italian food. Sure, it's easy to find Italian food here in California, but where I grew up, it seemed to be the primary cuisine. And I admit it: I'm a pasta whore. I love it all, from spaghetti and meatballs to potato gnocchi. My brother makes an amazing lasagna.
Just gimme all the pasta and prepare it pretty much however you like… carbonara, pesto, fill that ravioli with butternut squash… whatever.
Hell, let's just go ahead and say it: I like comfort food in general. Hot, buttery, mashed potatoes. Gooey mac 'n' cheese.  Cool, creamy pudding.
I'm not an emotional eater. Nope. Not a bit.
What foods don't you like?
Honestly, not many. I mean, yes, I hate ranch dressing, but condiments aren't exactly "food."
So it's more qualities of the food rather than the foods themselves. For example, I don't like really spicy food. A little spice in the dish to add zing is fine, but to have it so strong that it overpowers all the subtle flavors is not okay. And if it brings tears to my eyes… just… what the hell are you thinking, people?
I'm also not a fan of bitter foods, such as collard greens. I'll take spinach any day, but don't make my greens bitter!
Never cared much for radishes or really strong onions. But I understand they're not too fond of me, either, so it's all good.
As a kid, I didn't like chocolate ice cream. Hard for me to believe, today, but it's true. (In fact, while you're getting me all the pasta, gimme all the chocolate.)
Do you like to cook and, if so, what's your specialty?
I do actually like to cook, but as I've said… my brother is much more accomplished than I am.
If I have a specialty (and I wouldn't say this qualifies), it's probably fish. I love fresh fish cooked under the broiler. Sometimes, just before it's ready, I'll slather the filet with honey or maple syrup and put it back under the heat. Most of the stuff will drip off, but what's left is this touch of sweetness that I really like.
My real creativity with consumables is pretty much limited to inventing cocktails.
But that's a blog for another time.